Tuesday, March 24th, 2009
So my daughter has been borderline obsessed w/Hannah Montana for the last two years. I didn't have a problem with it until recently. The show is just much too mature for my seven year old, and Miley's personal life being in the public eye as much as it is makes it impossible for me to hide her teenaged mistakes from my daughter. I've been slowly working on Trinity, asking her if she'd like to change her room, which was decked out FULLY in Hannah. It was enough to make a girl sick, trust me. The other day, she agreed to my suggestions, and I wasted no time whatsoever. I spent a total of ten dollars and fifty cents redecorating her room. I used a bedspread I already owned that was given to me several months ago. I have held onto it as a "just in case" blanket, but found a much better use for it.
The bedskirt I bought about a month ago at a thrift store for $2.00, with the intention of putting it on Ms. Piper's bed, so that was in my linen closet as well. The Lacy pillow was 1.50, and was the first thing we purchased specifically for Trin's room. The canvas painting over her bed was in my school room, but served a much better purpose in her room. That was 10.00 roughly a month ago as well. The two signs, "tickle" and "behave" were in my home decor collection, and I simply hadn't found a home for them since we moved. They are perfect in there as Tickle was Trinity's first word (which is why I bought the sign) and behave is the word she hears all day long .
Each sign (well over a year ago) was 3.00 or less. The bookshelf was in Piper's room, the pink cloths are napkins that I got for my Valentines day table scape for 25 cents each. The little rose floral arrangment was purchased for my living room, but yet again, looked better in her new space. It was 2.85 at the Salvation Army. The plates are from my Christmas China, and were purchased at a Hospice Thrift Store 2 years ago for 10.00 for the set of 12. They read "Faith", "Hope", "Peace" and "Love". The plate hangers are from the dollar store. The artwork on her wall is made from two dollar tree frames, a package of dollar tree file folders in that somewhat victorian print. I wrote two verses I read to her often on them and put em' up on the wall. Total cost for the wall: $3.00. The window treatment is a 2.00 lace tablecloth hung on little hooks, and tied up with ribbon I had in the girls' hair stuff drawer. The rug at the foot of her bed was another thing I pulled out of my valentines day decor, and I paid .75 cents for it several months ago. The lamp was from Pipers room, and wasnt being used because she broke her shade. I put a shade on it from a lamp that was in MY room, and tied another piece of ribbon on it. The lace it sits on is a lace collar my mother-in-law gave me years ago that has been in my fabric stash for ages. The table is a tv-tray that is covered in yet another v-day tablecloth.
So if I were to total it all up, its more than 10.50, but considering the vast majority of the stuff I used is just repurposed stuff from around the house, this is the total I'm going by:
Lacy pillow: 1.50
Plate hangers: 4.00
Framed "artwork" 3.00
Paper doilies: 1.00 (actually way less than that as they were 24 for a dollar and I only used four or five)
Rose scented linen spray: 1.00
Total: 10.50!
SO here are the pics:
The room: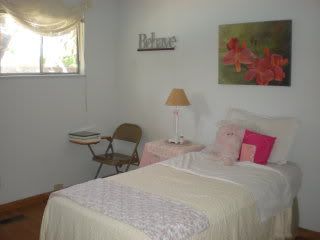 The bookshelf, with the floral arrangement, a framed pic of my mom and I was I was little, a framed note I gave Trinity, A few of my vintage mason jars w/silk flowers inside, and her new rose scented linen spray: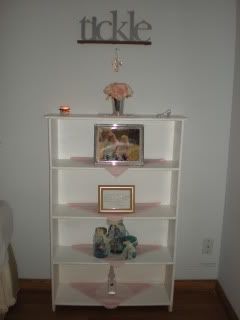 Her wall art: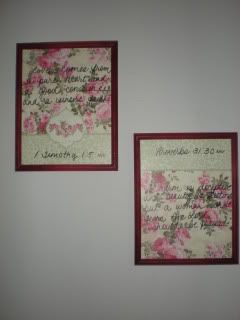 The other blank wall, with the plates: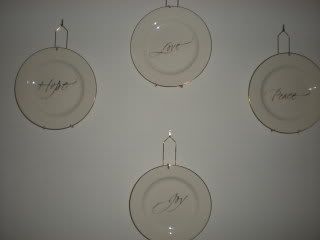 her work area: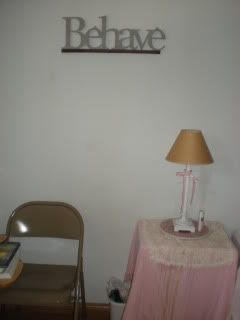 Her window "treatment"
and just for fun: the best book ever for little girls:
Her room before: (and this is a mild version of it! This was before quite a few items were added!)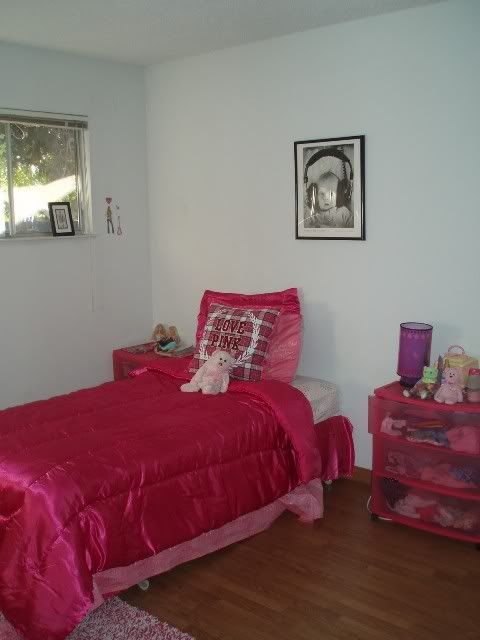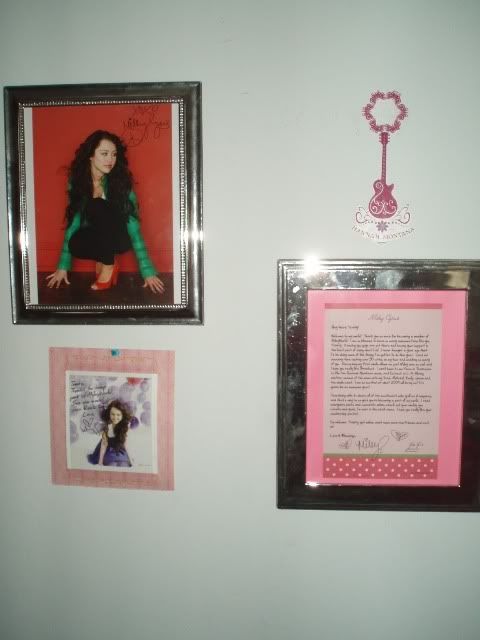 Much better!!!