Thursday, July 2nd, 2009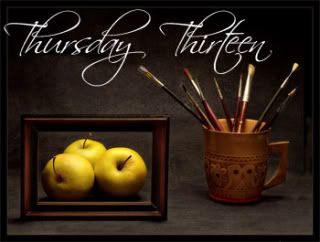 Today in my home, my senses are overloaded. Here are the 13 reasons why.
1.) Wow, Wow Wubzy. I dont get this show at all, but the kids like it. I'd prefer that they weren't sitting there, but honestly, I'm letting it slide for today. We're all feeling hot and tired.
2.) Box fans. They are loud, and there are two in the living room right now.
3.) The Neighbors peacock. He has been perched up on their roof all day, and he is sooooo noisy. He's lucky he's so pretty or I'd be tempted to turn him into Sunday dinner.
4.) My computer. Its one of those uber small towers that is supposed to be space saving, but it seriously sounds like a jet engine on my desk, preparing for takeoff. Its obnoxious!
5.) Whining. My poor son stepped on a bee yesterday, and he is milking it for all it's worth. yes, I know it hurts, and I'm sure its really uncomfortable, but the occasional "oohhh the PPAAAIIN!" is a bit overboard.
6.) It's hot. Everything is sticking to us. We'll head out for a swim when the sun isn't overhead.
7.) Sugar. I had a huge dr. pepper with lunch and I'm literally high now.
8.) Wow, Wow, Wubzy. Did I say that already?
9.) While we're on the topic of tv, let's discuss how sensory assaulting yo gabba gabba is, shall we? A simple commercial for it is enough to send me into visual and auditory overdrive. It's also worth noting that it makes my brain hurt. One can only try to figure out that show for so long before your brain waves shut down completely.
10.) Hubba bubba gum. My MIL bought Piper some last night, and even though I think it borders on being a disturbing substance, somehow I cant resist it. I love the stuff. Good thing its not grape though, because I wouldn't have any self control whatsoever if it was.
11.) "I'm hungry." Seriously? You just ate. My ears are going to bleed if I hear it again.
12.) The parakeet. He's having a nervous breakdown, I've decided. He is so manic right now, and I'm concerned about how much frantic squawking his little body can handle.
13.) The hubba bubba gum Piper just handed me. Pre-chewed. "here mama…you can have it." I love the stuff, but not enough to chew a piece that is already broken in!