Wednesday, May 30th, 2012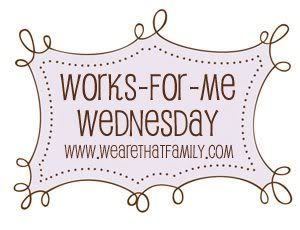 Summer is here. Kids are already "bored". This is a dangerous thing to say in my house for several reasons. The top two, however are,
1.) There is plenty to do and I am just the person to show them all that can be done when one is "bored".
2.) They are homeschooled so therefore have no business being any more "bored" in the summer than they were the rest of the year.
I think I found a good compromise, though. I can give them a job that helps me and holds their interest long enough to spare my ears the drawn out whining and complaining about how excitement free their little lives are.
They all like to help in the kitchen. I like to use up everything in our kitchen until it is nothing but compost. Therefore, this is a perfect activity. We shall give new life to FRUIT PEELS. And rinds. And skins. Guess it depends on what we are working with.
CITRUS PEELS 
Let's start with peels. Orange and/or lemon to be exact. I currently have 7 lemons sitting on the counter. Today, I will have the kids peel them while I set up the juicer. I HATE peeling citrus more than potatoes (yeah, really.) so already this sounds like a great idea to me. The kids wash and peel the fruit. I juice the fruit. (I freeze the juice in ice cube trays for later but that has nothing to do with this post.) The kids then pack a quart sized mason jar (or bigger if you have the jar and peels to fill it) and I pour in enough white vinegar to cover the peels.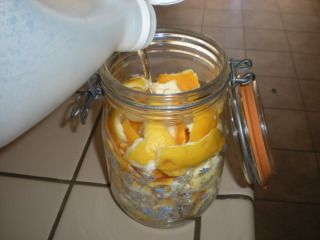 We then cover it, give it a shake, and set it on the counter for about 10-12 days. When the soaking days are up, we strain out the liquid which is now a citrus cleaner for your nearest empty spray bottle. I think oranges work best but because all I have is lemons toady, that's what we are gonna try.
I love teamwork!
PINEAPPLE RINDS
Mmmm…pineapple. So summery. So NOT boring.
Kinda hard to break into, but once you do, you will NEVER want canned pineapple again. I would recommend organic for this recipe folks…they aren't much more expensive than conventional, really. .49 cents more last time I shopped!
So you have cracked open your fresh pineapple. You realize, however that you have more rind and core than you do pineapple and briefly feel a little cheated. Have no fear…there is, in fact a purpose for all that inedible pinapple-ness.
Take your core and skins (make sure there isn't a sticker on the skins, lol) and drop em in a large jar (I use a big old pickle jar). Add 1/4 cup sugar and cover with water,  (about a quart.) If it takes more than a quart, add a bit more sugar to adjust the ratio. Cover the top of the jar with a coffee filter and rubberband and leave on the counter for about a week. If the  liquid begins to darken, strain out the rinds and core, but leave the vinegar on the counter for another 2-3 weeks. If it doesn't darken, just leave the peels there. Give it a swirl/shake once a day to agitate it a bit. When the total 2-3 weeks is up, it should be ready! Can you imagine this in a mango salsa over grilled chicken? I can.
BANANA PEELS
This is one of my favorite uses for otherwise discarded peels. Here's how it works:
1.) Feed your kids something for breakfast that goes with banana.
1.5) Have some of this for yourself: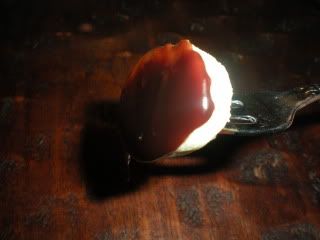 2.) Save their banana peels.
3.) When they are "bored", give them said banana peel.
4.) Show them how to not be "bored" by having them wipe down all the leaves of your houseplants.
5.) Admire your shiny plants.
Optional #6: Do it yourself to avoid being "mean".
*disclaimer: I am really not a mean mother. I just don't see any reason to be bored on 7 acres with a five bedroom house. It just isn't possible. That said, if presented properly, the kids actually enjoy this type of thing.*
So there you have it. Cleaner house, cleaner palette and cleaner plants.
Oh, and no bored kids…or Mama's.
Works for me! Check this out for more tips.