Saturday, May 26th, 2012
We went down the hill today. We came back with bark for the flowerbeds, some thrift store finds, and surprisingly, without bologna. Kinda proud of the hubs.
As we were heading down I noticed that my favorite fruit stand is officially open for business. They are open for most of the summer, selling peaches, nectarines, plums, apricots, nuts, and dried fruits. Ever had mango flavored dried pineapple?! Yeah, I hadn't either and had no idea my life was incomplete before it.
Another two miles down the road and I see that another fruit stand is open for business. It's official. Summer is here! Gosh I love tree fruit.
Then I started thinking. I bet there are people who have never seen a nectarine on a tree. I am willing to bet there are folks who have NO IDEA what a fresh piece of stone fruit tastes like. I am reminded every summer how blessed we are to live here. I will try to remember that when it is 110 degrees outside.
Heading out of our small town I took mental notes of all the things that make our community special. The fruit stands sparked it, and my favorite kind are called "honor stands". Basically, there are stands set up on the side of the roads (or backroads if you are from here.
) with fresh produce available. On the stand there will be a locked box for you to drop your money in. Hence, "honor stand". Its a brilliant idea. I am sure not everyone has the honor to follow the obvious rules, but overall, I think people are honest and drop their cash.
Here is one that only sells citrus up here. Citrus is mostly a late fall/winter crop, so they are not open right now.
Citrus is not in season, as I said, but the groves are so nice to look at. Here is one of the larger ones on our way home. Excuse the tall grass….I wasn't gonna get any closer…rattlesnakes scare me.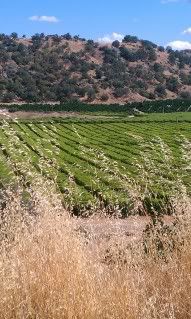 I love this one because you can get oranges, tangerines, and sometimes lemons for 3.00 or less a bag. Buy local, save money!
We have many, many honor stands up here, but this one happened to be on the way home. Some have garden veggies, some have fruit, and some even have eggs. I really love buying from my community and especially love the money I save.
Back to my favorite fruit stand. Not an honor stand, but an amazing selection of stone fruit. Everything is .99 cents a pound, so you can mix and match whatever fruit you want. It is an incredible deal as stone fruit can sometimes be upwards of 3.00 a pound in the stores. This stand has become a big tourist attraction, so I tend to try and shop during the week, and load up while I am there.
My favorite part is their washing well. It allows you to eat a piece on your way home.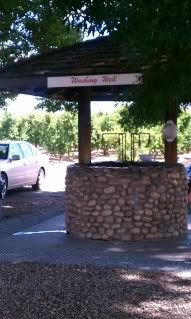 As I drove away, I spotted fruit being hauled away straight from the tree. Bet there are lots of people that have never seen what goes into picking fruit. Honestly, if people knew what went into growing and harvesting the food we eat, it would be appreciated so much more. Excuse the side mirror.
Fruit on the tree: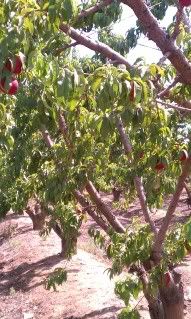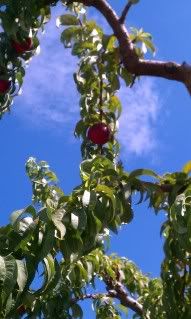 Grapes will be late summer: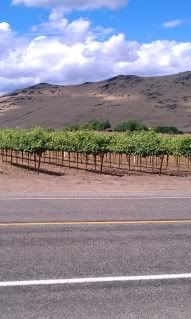 We will likely buy corn from this farmer in a couple months: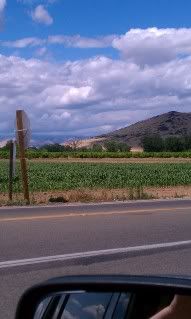 (Doesn't look like much, but trust me, it is an amazing variety that is worth far more than the pennies he charges for it!)
I realize that not everyone will have this type of produce at their fingertips this summer. That said, I am willing to bet there is something local that your community offers or specializes in. Check out what your neighbors are offering…see how you can support them, and save money on as well. You might be surprised by what you find.