Monday, July 23rd, 2012
It's been a bit! I have been tied up with 4-H record books (any other 4-H parents hate the week or two before the due date?!) but now I am FREEEEE! Until August, that is…when it starts all over again.
Here are ten quick bits to catch us up.
1.) Our new puppies are growing! They are starting to look like dogs, and not little giant headed black rats, so I'd say we are making progress. The little one found his bark this passed week. Warms my heart to see him catching up. Take a look at how small he was when we got him about a month ago: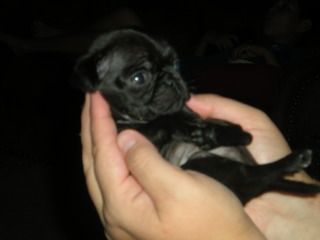 2.) I think I have mastered Kettle Corn. Yay! I have sworn off all vegetable/canola/corn oil, so I haven't had any of the kettle corn that seems to be "popping" up all over farmers markets. Sooo…I decided to figure it out myself with ingredients I trust. Take 1/4 cup coconut oil and heat on med/high. Add 1/2 organic popping corn kernels (Trader Joes sells a big bag cheap.) Wait for 2 or 3 kernels to pop, then quickly add 1/4 cup demerara (Which is essentially "sugar in the raw".) Give it a quick stir to coat, put the lid on your pot (big pot!) and start shaking the pot back and forth over the burner. Once the popping slows down to about 2 or 3 seconds in between pops, quickly transfer it to your bowl. Add salt to taste. Last night was movie night and the popcorn was gone before the opening credits were done.
3.) My garden is thriving. I am completely surprised. I just might be figuring this out!
4.) I made Ciabatta bread the other day for a family dinner. I used this recipe and it was AWESOME. I sliced it into sandwich size pieces, sliced them open-faced, lightly grilled them, spread this basil aioli on both sides, and topped with seasoned, butter seared, boneless/skinless/split chicken breasts, fresh basil from the garden, fresh slices of mozzarella, and the most gorgeous tomato slices. Voila. Caprece salad chicken sandwiches on fresh ciabatta. To.Die.For.
5.) I am planning my sister's bridal shower and having a blast doing it. Because of our guest list, we are having it at a restaurant, but I have to admit that I am a little bummed I am not doing the food prep. I guess it is my way of showing love to those around me, so it sort saddens me to pay someone else to feed everyone. That said, the other details (invites, centerpieces, prizes, etc) has been fun to come up with. I will make sure to take pics of the process and the event. Here is a picture taken during their engagement pic session. I believe this pic will be displayed at the wedding too. Aren't they sweet together?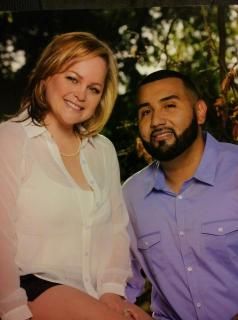 6.) We are harvesting roosters this weekend. Would you like pics of that too?
7.) I have lost 9 pounds! I attribute it to the lack of packaged foods, and the addition of daily kefir, kombucha and coconut oil. The coconut oil and kombucha really seem to make a big difference. I have been drinking kombucha for years, but rarely daily. I am really trying to stay on top of drinking it now.
8.) I haven't been making yogurt lately because I cannot make it like Brown Cow. If you haven't tried Brown Cow Cream Top Vanilla yogurt, you are not a whole person yet. It is much cheaper to make my own yogurt, yes, but it is NOTHING like theirs. With the lack of every other snack food in my life, I will make room in the budget (and my meals) for this creamy deliciosness.
9.) I finally have a title for the cookbook I have been working on for a decade. The title means that many of the recipes have to go, but I now have a sense of direction I haven't had before. Keep your eyes open for my book sometime in the next decade .
10.) I am tired of talking about myself. What is going on in your world?