I saw this on a bumper sticker the other day, and briefly considered it as a tattoo.
ok, not really, but its a great quote.
While we're pondering the wonders of butter, contemplate the following recipe:
2 cups (yes, 2 cups) butter, softened
1 packed cup light brown sugar
pinch of salt
3 3/4 cups all purpose flour
Beat butter and brown sugar together. add pinch of salt, slowly add about 3 cups of the flour until its a dough ball. sprinkle the rest of the flour onto board, knead dough for about five minutes, then roll out 1/2 inch thick. Slice into rectangles (or whatever shape you want), prick with a fork in four rows, bake at 325 for 20 minutes.
The best Scottish Shortbread EVER.
Here, just as I've described: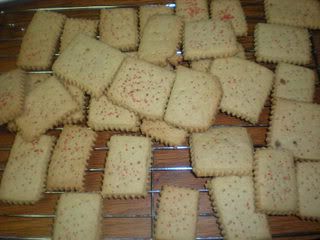 and here, rolled into 1 inch balls, pressed with the backside of a 1/4 teaspoon, and filled with strawberry jam prior to baking.