YUM!!!!
The menu plan last night was homemade chicken nuggets. I decided roughly an hour before dinner that I wasn't going to make those.
Instead, I made chicken filet sandwiches on homemade hamburger buns. They were awesome.
Hubs said they tasted like chik-fil-a , only better.
I took 3 large chicken breasts (boneless skinless) and butterflied them, so that I had six thinner filets. I soaked them in about 2 or 3 cups of milk, a dollup of dijon mustard, salt, pepper, garlic, and pappy's seasoning for about an hour.
I mixed 1 cup each of panko, italian breadcrumbs and flour in a seperate bowl.
I prepared the fryer, set at 350* and began dredging the chicken in the breadcrumb mixture. I then fried them for roughly 5 minutes or so (until golden brown and inside is done). I served them on homemade buns with homemade potato chips that I fried up after the chicken was all cooked. The oil gave the potatoes good flavor. I fried up some zuchini too, but frankly, those were gross, LOL!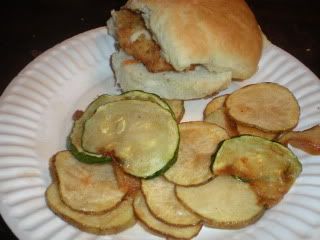 I ate mine plain (kids did too) but the hubs put mayo and mustard on his. It made six sandwiches, enough for everyone to have one, and for the hubs to have one for lunch today.
Total price: About  $6.50