Did some serious grocery shopping on Friday. Shopping for organic, natural ingredients and trying to make them last 2 weeks without spoiling takes some serious planning. Heck, trying to make sure it all makes it home on an hour long car ride in the middle of summer takes planning too. My car was loaded down with three ice chests and a cold/hot bag. No kidding. I also had about 10 grocery bags full of staples and non-perishables.
Bought a really cute reuseable bag at Trader Joes btw. Had to have it. Its almost cute enough to be a purse. A really, really big purse.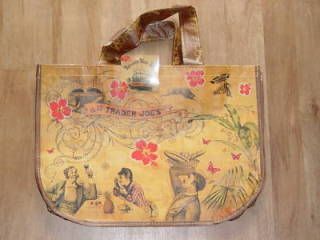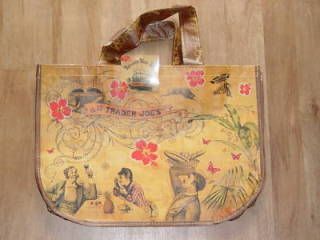 I also brought home a ton of other stuff including some really great deals. I have always loved Trader Joe's and am really glad I have found my way back there. Heads up: Their pint sized jar of raw coconut oil is 5.99.
It is an awesome deal by comparison. I realize its still more expensive than vegetable oil, but trust me, you dont want to eat that stuff anyway.
I also found my way to some killer vanilla bean goat cheese rolled in blueberries for 4.49 (a splurge for company that came over), organic penne pasta for 1.39 per bag, organic spaghetti sauce for 1.99 a jar, a big ol' bottle of Dr. Bronners peppermint soap for 9.99 (my fave soap ever) and some gorgeous avocados too. All that and about 40 other items…no joke.
One of those items was a lovely little chicken. No hormones, no antibiotics, no guilt when eating it.
That little chicken is thawing on my counter and will be used tonight in my terracotta roasting chicken dish thing.
I will season it with onion, green garlic, rosemary and olive oil  (all from our CSA box), and serve it with roasted new potatoes,  (also a CSA item), probably seasoned with the rosemary, garlic, and olive oil as well, and oven roasted beet chips as well to give some color to the plate and use up the large quantity of beets I have amassed.
Recipe is here.
Total cost for dinner? About $10.00. Cheaper than a bucket of chicken, and actually good for you.
Time invested? About 2 hours. At least. I didn't say it was easy folks, just healthy, and not super expensive.
Off to go make my kitchen smell like a Rosemary Wonderland…